Azpilicueta provides update on his future at Chelsea FC.
Updated: Jan 10
Chelsea FC captain Cesar Azpilicueta is coy on his future with the Blues but is enjoying playing under manager Thomas Tuchel.
Azpilicueta is keen to win trophies at Chelsea this season (Chelsea FC/YouTube - Screen Shot)
Azpilicueta remains tight-lipped over his contract situation but is committed to delivering silverware for Chelsea this season.
Cesar Azpilicueta says he is fully focussed on his job and isn't going to be drawn into speculations about his future at Chelsea.
The Spanish defender has six months left on his current deal at Stamford Bridge and hasn't made it clear whether he will be extending his stay at the club or not, with foreign sides including Barcelona looking to secure his signature.
However, the Blues captain says there are more important short-term goals to be achieved at the west London club, which includes winning trophies this season.
'As I always said, I feel I have the trust and confidence of the club and now I am focused on every game,' the 32-year-old, who sealed a move from Ligue 1 side Marseille to the west London club back in 2012, said as Chelsea's official website quoted.
Azpilicueta joined Chelsea from Marseille back in 2012 (Chelsea FC/YouTube - Screen Shot)
'They are very tough games, and I am enjoying the moment. Eventually, the moment will come, but I am fully focused on hopefully getting as many trophies as we can and then we will see.
'I cannot say anything more than that I am really committed and have a lot of things ahead in the coming months and hopefully we can have a very good season.'
Azpilicueta, who started his 300th Premier League game in the Blues' 1-1 draw with Brighton and Hove last week, also spoke about how there has been a common attribute in all the (9) managers he has played under at Chelsea.
'I have had a number of managers, and some have been very different. One thing they all have in common is that will to win,' he said.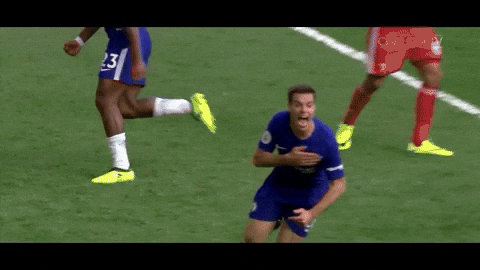 'Thomas is someone who is very calm but he is also very demanding. He is not happy when things are not going well. He always wants more – more success. That is what he has proved with the success he has had and hopefully, we can have more in the future.'

Follow Think Football Ideas across our social channels

,

 on Facebook

,

 

Twitter and Instagram

.