Can Guardiola End His Champions League Hoodoo at Man City?
Updated: Jun 21
Prior to the second leg of Manchester City's crucial Champions League quarter-final against Borussia Dortmund, manager Pep Guardiola made a stark admission.
More specifically, he suggested that his time at the Etihad Stadium would be considered a failure unless he delivered a Champions League title, with the last attempt ending in agonising defeat following a 1-0 final defeat to Chelsea.
But is this a fair assessment, and can Pep end his Champions League hoodoo at Manchester City?
Man City boss Pep Guardiola
Pep's Time at Manchester City in Numbers
Undoubtedly one of the greatest coaches of all-time, there was huge anticipation when Guardiola arrived in Manchester in the summer of 2016.
Of course, his appointment also coincided with Jose Mourinho joining Manchester United as manager, once again making the EPL the focus of sporting headlines across the globe.
While this mouth-watering rivalry never really reached its previous highs in Manchester, the Spaniard has maintained an incredibly high and record-breaking level of performance over the last five-and-a-half years.
This has culminated in eight major trophies (and two Community Shields), including three Premier League crowns in the last four years, one FA Cup, and four consecutive ELF Cups.
His second season at the club resulted in a Premier League and League Cup double, while Pep's City side became the first side to reach 100 points in a single season and set a joint record for consecutive EPL victories (18).
In a stellar 2018/19 season, City became the first-ever English side to win a domestic treble, winning their final 14 league games from February 3rd to hold off a spirited challenge by Liverpool (who set a new record by finishing second with 97 points).
What's more, they completed their historic treble with a statement 6-0 thrashing of Watford in the FA Cup final at Wembley, which was City's 50th win in just 61 games during the season.
Overall, Guardiola has contested 327 competitive games at City up to January 27th, 2022, prevailing in 239 of these for a stunning win rate of 73.09%.
City have also plundered 797 goals during Guardiola's tenure, while his current win rate at the Etihad is slightly better than the one recorded during his legendary time at Barcelona.
Has Pep Failed at City?
However, Guardiola's four years at Barcelona delivered 14 major trophies overall, crucially including two separate Champions League titles.
In the 10 years since his last UCL win in 2011, the Spaniard has only reached one final (last season), falling at the semi-final stage on three consecutive occasions during his time at Munich.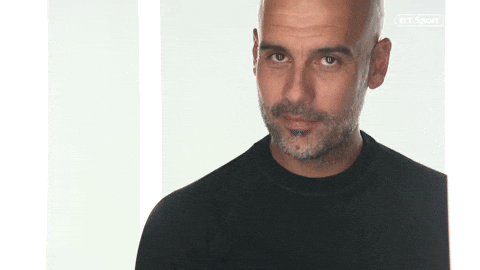 This was considered to be a failure on Guardiola's part, as while he won three Bundesliga titles during the same period, he couldn't win a trophy that Bayern defended during his first season in Munich.
Despite continued domestic success at the Etihad Stadium, Guardiola's UCL performances have been even patchier in England, ending in the round of 16 and quarter-finals on three consecutive occasions between 2017 and 2020. While he finally managed to break this particular hoodoo and reach the final last year, his failure to select a striker or recognised defensive midfielder raised huge questions and contributed to a disappointing 1-0 defeat.
Considering his domestic achievements and the fact that Guardiola has spent more than £1 billion at City, many consider this record to be relatively poor and a serious area for improvement at the club.
The Last Word.
While Guardiola has failed to live up to expectations in Europe, it would be incredibly harsh to label his silverware and record-breaking laden tenure at Manchester City as a failure.
The question that remains, of course, is can Guardiola end his UCL hoodoo at the Etihad? He certainly has the finances and squad resources to achieve this goal, while his side came tantalisingly close to lifting the title barely eight months ago.
Sure, there may be some mental scars affecting City players, while Guardiola has been accused of over-complicating his tactics in crucial UCL matches (both at City and Bayern).
For as long as Pep remains at the club, however, the smart money would ultimately be on the Spaniard to lift the Champions League title sooner rather than later.

Follow Think Football Ideas across our social channels

,

 on 

Facebook

,

 

Twitter

 and 

Instagram

.